TRACY CRIME STOPPERS, INC.
Crime Doesn't Pay 
But Crime Stoppers DOES!
And your identity is always 
protected when reporting a tip.
Our mission, in partnership with citizens, media, and the criminal justice system, is to prevent and solve crimes within the Tracy region.
Our main purpose is to provide cash rewards to citizens whose anonymous information leads to the arrest of criminals. California Assembly Bill No. 1250 protects Tracy Crime Stoppers from ever having to reveal the source of a tip. Your anonymity is guaranteed.
 Crime Stoppers is not a police program or a media program. We depend on individual and corporate donations and sponsorships to fund the program. We are a 501(c)(3) not for profit organization and rely on the generosity of our community to keep the program running.

---
WANTED

---
TRACY FATAL COLLISION
(Tracy, CA) –   On Wednesday, February 6, 2013, at approximately 8:45 p.m., Tracy PD Officers responded to a hit and run collision on Schulte Road near Lauriana Lane.  A vehicle struck a bicyclist in the roadway, and fled the scene.  The cyclist, a 27 year old male Tracy resident, was pronounced deceased shortly after the collision, at a local hospital.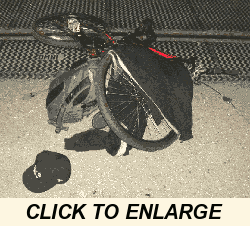 The Tracy Police Department is asking for the public's help in locating the involved vehicle.  It is described as a dark colored, shiny, 90's model sedan, with tinted windows, loud exhaust, fog lights, and possibly front end damage.  If you have any information regarding this vehicle, you are encouraged to call the Tracy Police Department at (209) 831-6550.  You may remain anonymous.
An Anonymous Donor gave Tracy Crime Stoppers $5000.00 to offer as a Reward for information that leads to arrest of the person(s) responsible.
Three ways to make an anonymous Crime Tip
CALL:  (209) 831-4847  / 24 Hours a Day - 7 Days a Week.
WEB:    http://www.tracycrimestoppers.com/tip
TEXT:    Text "TIPTPD  plus your message" to 274637 (CRIMES)*
* Message and Data Rates may apply.
Text  "STOP" to 274637 to Cancel.  Text "HELP" to 274637 for Help.