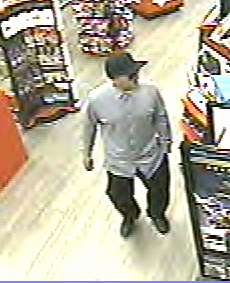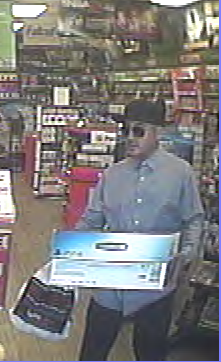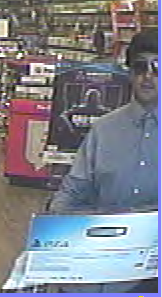 On 10-4-15, at approximately 1107 hours, GameStop located at 2531 Naglee Rd. in Tracy was robbed at gunpoint by the suspect pictured above. The suspect was described as a light skinned male adult (Possibly Hispanic or Asian), approximately 5-04 tall, approximately 140 pounds and 30 to 40 years old. The suspect was wearing a blue and white striped shirt, black slacks or dress pants, black shoes, a black "SF" baseball hat and sunglasses. The suspect was armed with a black semi-automatic handgun.
The suspect waited for over 10 minutes for all other customers to leave the store before ordering the two employees to empty all three registers. The suspect also ordered the employees to remain in the back office for 10 minutes while he fled the scene on foot.
The loss was two PlayStation 4 Military Appreciation Bundle packs and an undisclosed amount of cash.
If this person looks familiar or you can positively identify the suspect; please call Detective Steve Flores at 209-831-6624  or email This email address is being protected from spambots. You need JavaScript enabled to view it.
DETECTIVE STEVE FLORES
1000 Civic Center Dr, Tracy, CA 95376
Desk: 209-831-6624 – Fax: 209-831-4018
This email address is being protected from spambots. You need JavaScript enabled to view it.
---
Three ways to make an anonymous Crime Tip
CALL: (209) 831-4847 / 24 Hours a Day - 7 Days a Week.
WEB: http://www.tracycrimestoppers.com/tip
TEXT: Text "TIPTPD plus your message" to 274637 (CRIMES)*
* Message and Data Rates may apply. Text "STOP" to 274637 to Cancel. Text "HELP" to 274637 for Help.